Models
Drag your finger across the table to scroll
| Models | Min. / Max. Ambient Temperature | Max. Operating Pressure at Inlet | Max. Condensate Temperature |
| --- | --- | --- | --- |
| All ÖWAMAT Models | +41 / +140°F | 232 psig | 140°F |
---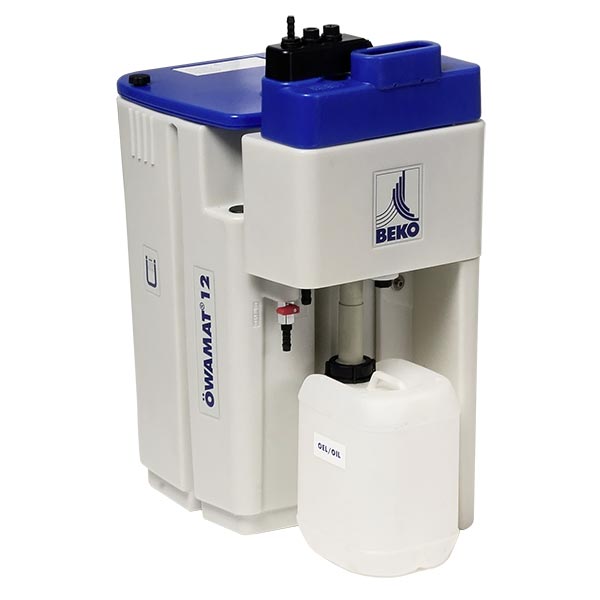 Drag your finger across the table to scroll
Model
Condensate Feed
Cartridge Capacity (gal)
Tank Capacity (gal)
Filling Capacity (gal)
Max. Compressor Horsepower | Rotary Screw Compressor
Mineral Oils
PAO / Diester Oils
12
3 x 1/2" | 1 x 1"
1 x 0.7 | 1 x 1.4
8.08
6.00
50
40
---
Drag your finger across the table to scroll
Model
Condensate Feed
Cartridge Capacity (gal)
Tank Capacity (gal)
Filling Capacity (gal)
Max. Compressor Horsepower | Rotary Screw Compressor
Mineral Oils
PAO / Diester Oils
14
3 x 1/2" | 1 x 1"
1 x 1.8 | 1 x 2.8
16.19
12.23
110
75
---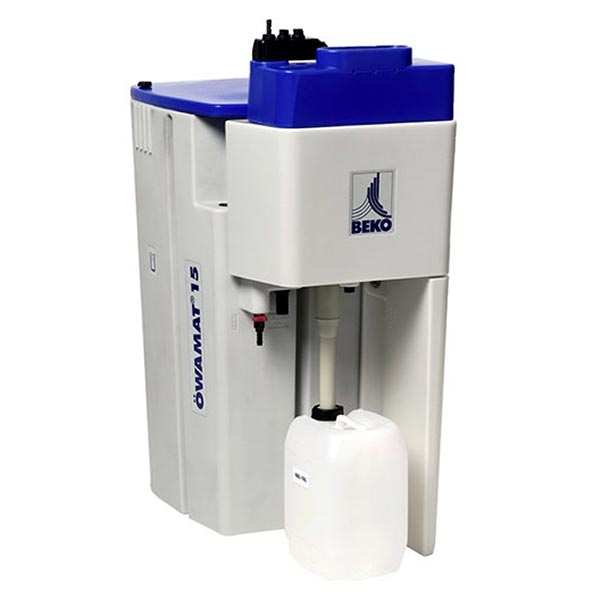 Drag your finger across the table to scroll
Model
Condensate Feed
Cartridge Capacity (gal)
Tank Capacity (gal)
Filling Capacity (gal)
Max. Compressor Horsepower | Rotary Screw Compressor
Mineral Oils
PAO / Diester Oils
15
3 x 1/2" | 1 x 1"
1 x 4.9 | 1 x 5.3
30.51
22.27
210
130
---
Drag your finger across the table to scroll
Model
Condensate Feed
Cartridge Capacity (gal)
Tank Capacity (gal)
Filling Capacity (gal)
Max. Compressor Horsepower | Rotary Screw Compressor
Mineral Oils
PAO / Diester Oils
16
3 x 1/2" | 1 x 1"
1 x 4.9 | 1 x 5.3
60.4
41.9
450
280
Features
The ÖWAMAT Principle
Simplified Service/No Mess: lightweight, easy to change cartridge and the exterior remains clean and dry (no dirty hands)
Unique Adsorption Material: new filling material that is extremely light, not messy, and has increased performance
Integrated Pre-Separation: separation of free oil increases capacities
Environmentally Safe: cartridge can be disposed of normally and is safe for any sanitary landfill
Easy Retrofit Heating Unit: all model sizes can be equipped with heating elements for cold weather applications
In large parts of production, from the process plant control to pneumatic test and control methods, compressed air has become indispensable. However, during its generation, contaminated condensate is formed which contains, for example, hydrocarbons, dust, and dirt particles from the intake air; coolants and lubricants from the compressor; as well as oil residues, rust, wear debris, or residues from sealants.
Condensate, as an oil-containing wastewater, must not be introduced into the sewer system according to the Federal Water Act, meaning that the condensate either needs to be disposed of professionally or processed on location. Disposal via external service providers is an expensive process. In addition to the disposal costs, company-internal investment costs (for approved collection tanks and monitoring devices, for example) are incurred.
A more cost-effective solution for environmentally compatible condensate management is the decentralized processing of dispersed condensates directly at the source. For this, ÖWAMAT oil-water separators made by BEKO Technologies offer a clean solution: condensate which was processed using an ÖWAMAT can be directly introduced into the sewer system as purified water.
How does it work?
For the processing, the oil-containing condensate first flows under pressure into the pressure relief chamber (1). Here, the pressure is reduce without causing turbulence in the downstream separating tank for the separation of free oils (2). Any entrained coarse dirt particles are retained in a removable receiver (3). In the separating tank, the oil settles on the surface as a result of gravity separation and is led into the spillproof oil receiver (4).
The filter makes the difference: The condensate, precleaned in this manner, now flows through the oleophilic prefilter (5), which boasts a large active filtering surface. With a flow from the inside to the outside, it binds the remaining oil droplets and also absorbs any residual floating oil in the filter chamber. The core is the OEKOSORB main filter with cartridge technology (6): here, residual oil fractions are reliably retained. What remains is water which may be directly introduced into the sewer system.
Dimensions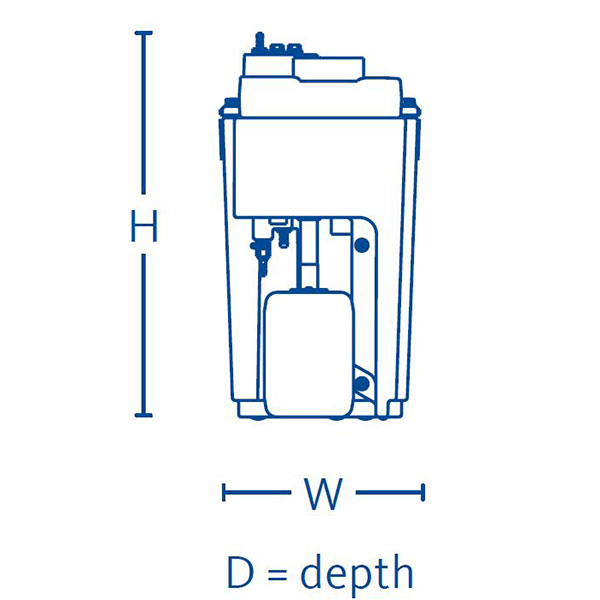 Drag your finger across the table to scroll
| Model | A | B | Depth | Weight |
| --- | --- | --- | --- | --- |
| 12 | 27.4 in | 22.1 in | 13.8 in | 29.8 lbs |
---
Drag your finger across the table to scroll
| Model | A | B | Depth | Weight |
| --- | --- | --- | --- | --- |
| 14 | 34.1 in | 24.8 in | 16.1 in | 40.8 lbs |
---
Drag your finger across the table to scroll
| Model | A | B | Depth | Weight |
| --- | --- | --- | --- | --- |
| 15 | 42.9 in | 30.3 in | 20.5 in | 80.5 lbs |
---
Drag your finger across the table to scroll
| Model | A | B | Depth | Weight |
| --- | --- | --- | --- | --- |
| 16 | 45.7 in | 38.6 in | 25.6 in | 116.9 lbs |
Contact
mdi
Please fill out the form below and your personal mdi product expert will email you your quote. The more information that you provide the quicker we can send you a quote. Sending an incomplete quote request could mean that we have to contact you for necessary information before sending your quote. And know that our knowledgeable sales staff is standing by to help you with your order and with any questions.
mdi does not advertise prices online. The cost of products is subject to change over time. In order to extend to you the best price that we can offer, we prefer to create written and emailed quotes which reflect any discounts or promotions currently available. Some products can be quoted over the phone, and expediting quotes and orders is always available per request.
See our Terms and Conditions for more information about the mdi sales process.
---
Call us any time Monday through Friday 7:30 AM to 5:30 PM ET.
Phone: (727) 835-0670 | Toll Free: 800-761-4298
Fax: (813) 571-0422 | Email or Fill Out the Form Above